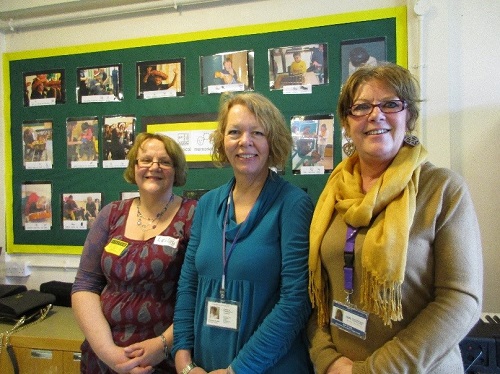 Leslie and Francine from 'Families in Focus' (FiF) deliver 4 workshops for the parents.
The first workshop, 'Understanding behaviour of children with additional needs that challenges parents' that was delivered on Friday 5th February 2016 was a great success. We had 10 parents from Breakspeare and 3 from other schools joining together. Parents found that Leslie and Francine shared information and knowledge in a way that is driven from their own experience of having a child with additional needs.
It was great to meet Jan, the Triage Lead of DSPL 9 at Breakspeare.
We are very grateful that 'DSPL 9 group' provides funding for our workshops. DSPL means 'Delivering Special Provision Locally' and 9 is for our area in Watford, Three Rivers, Bushey and Radlett. DSPL is a Hertfordshire-wide partnership approach where parents, staff in early years settings and schools, further education colleges, local authority officers and representatives from other agencies, work together as part of an Area Group, reviewing and developing the range of provision and support services available to their local community.
The next workshops are:
Friday 4th March: Strategies, tips and ideas to encourage positive behaviour in children with additional needs
Friday 6th May: Understanding sensory issues in children with additional needs
Friday June 10th: Skills to encouraging children with additional needs to become more independent
All workshops will start at 9.30 am and finish 11.30 am and take place either in the music room or in the sports hall.
To book your free place:
Contact Lesley and Francine by telephone / leaving a message 01442 219720
Or email

This email address is being protected from spambots. You need JavaScript enabled to view it.
The next step for us at Breakspeare is to continue working with FiF and DSPL9
We are exploring an opportunity to train some of our parents as 'active listeners' e.g. being able to support other parents with a child with additional needs.